Curriculum
| | |
| --- | --- |
| Target Group | People holding a minimum of a Bachelor degree or equivalent, who are having an intrinsic interest in contributing to complex societal challenges by using his/her areas of excellence and interests. |
| Course Options | Master of Science |
| Admission requirements | Study according to regulations |
| Learning format | Classroom teaching |
| Duration | 4 Semester |
| ETCS-Points | 120 |
| Course fee | EUR 13.500,– |
| Language | English |
| Curriculum | BLT 9/2021, No. 28 from 19 February 2021 |
Modules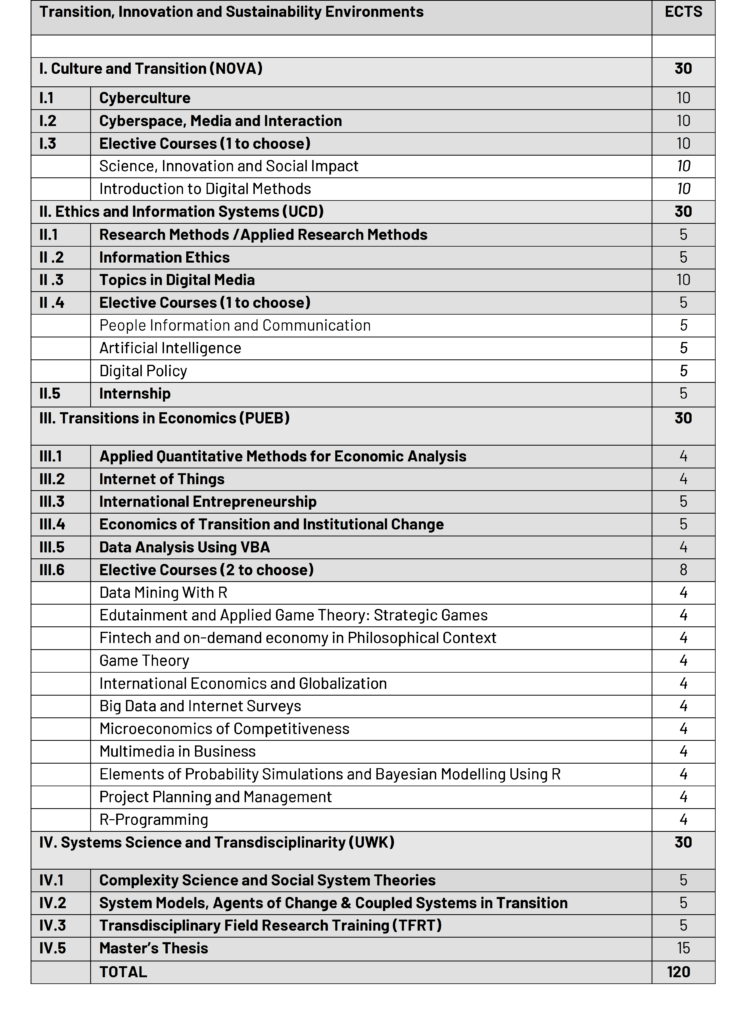 Learning Outcomes
Understanding of the dynamics of social systems both as a whole and as coupled systems through different scientific disciplines.
Understanding of the principles and processes of sustainable development and resilience in social systems with special consideration of science, technology and society issues and thereby realizing the vulnerabilities (chances and risks) induced.
Identification and specification underlying scientific methodologies and connected human-environment issues.
The recursive implications of ethics-and-technology and ethics-and-policy.
The nature of human technology interactions and human computer interactions and their implications on the individual as well as on the diverse arena of interrelations and social innovation.
Understanding of the theories, problem solving methods and results of transdisciplinary processes.
Ability to generate an interdisciplinary understanding of human technology interactions, technology as a driver of change, and describe its impact on society on diverse levels.
Ability to initiate and apply collective problem solving and innovation strategies as well as crisis resolution strategies.
Ability to recognize and address ethical issues in complex decision-making.
Ability to critically assess innovation areas of transitional processes, their drivers and vulnerabilities.
Ability to use research and research management skills, design research projects in groups and individually, use research methods (quantitative, qualitative, mixed methods, system analysis, as well as methods of transdisciplinary).
Ability to integrate knowledge, handle uncertainty and complexity, design and implement innovation spaces, formulate judgements and communicate them to a wider audience (All).
Graduates are as professionals, open to multiple perspectives of science areas and stakeholders' groups, critical, committed to knowledge-based initiatives, reflective, when implementing changes, and assessing results.
Graduates are sensitive towards cultural, intercultural and multicultural issues.
Graduates are motivated innovators and promoters of integrative, co-creative, transdisciplinary processes.
Graduates are self-confident, realistically recognize professional perspectives and opportunities for action.
Graduates are capable of evidence based independent decision-making and responsible promoters of inventions and innovations.
Graduates are reliable and effective team members and leaders of a group, responsible supporters of professional development.